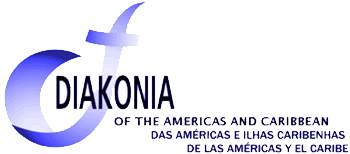 DOTAC – DIAKONIA of the Americas and Caribbean
13th CONFERENCE
Porto Alegre/RS, Brazil, October 21-25, 2015
Theme: The Diakonia of Jesus – From crumbs to full communion
December 2014
Dear DOTAC friends,
Join us!
Along with the Diaconia da Igreja Evangélica de Confissão Luterana no Brasil, I am pleased to invite you to the 13th DOTAC Conference, October 21 -25, 2015. Our theme, The Diakonia of Jesus – from crumbs to full communion, is relevant for all of our lives these days.
Our conferences have spanned Canada, the United States, the Caribbean and we are pleased to return to Brasil for the second time. You will enjoy the hospitality and the beauty of Porto Alegre, the capital of Rio Grande do Sul, Brasil. You may have seen some of Porto Alegre as it was one of the venues for last year's World Cup games.
Please join us for presentations, Bible study, workshops, worship and small group time. Your attendance is vital as we look together at who are the people that live under the table and survive eating bread crumbs? Who are the people living under the table that have no opportunity to participate in the reflections and decisions taken around the table? What are the signs of hope, transformation, of changing places from feeding off the crumbs to having full communion?
You will have the opportunity to meet and share with others doing diaconia throughout North and South America and the Caribbean as well as guests from around the world. The conference will be translated into Portuguese and English.
October will be here before you know it. I'm looking forward to seeing you there!
Faith and service in Christ,
Lisa Polito
Presidente